Our Origin Story
In 1987, our founder, Char Tosi, and six other women sat around a kitchen table asking, "What do women need most?" The result: a program they called Woman Within. Its mission: to learn how to be a woman and to celebrate its gentle power.
Soon after, the first Woman Within Weekend was held in Kenosha, Wisconsin – and since then, the program has reached thousands of women around the world. In 1999, Woman Within was established as a not-for-profit organization with an international board, an Executive Administrator, Regional boards and local community councils.
Since then, many women have contributed to Woman Within's development, weaving together their ideas to build on the original Weekend's program design. Every Woman Within Weekend brings new insights that help us continually hone it and assure its optimal delivery.
Every Point of Contact is a Point of Connection
After a spider has established a foundation for weaving a web, she then produces the silk which creates the form, structure and process of the web. The orb web has three parts: a center, the orbs and the radials. The orb and radial lines bind the whole together. Every point of contact is a point of connection. Our purpose is to emphasize interrelationships, work to tighten them, and help to build strength. It is this strategy that honors the feminine principles of inclusion, connection and being responsible for holding the vision for this time.
For women who have participated in the Woman Within Weekend, there are connections still present, connections to a growing number of almost 20,000 women who have attended the weekend from as far away as Cape Town, Africa; England, France, New Zealand, Hawaii, California, Florida, Maine and from British Columbia to Ontario, Canada. Since its humble beginnings in 1987, the web does indeed stretch across the United States, and Canada, to parts of Europe and Africa and as far away as Australia.
In 1995, Texas came to Woman Within in a BIG way! Before they started their weekends in Houston they filled a weekend with only Texas women, staffed mostly with Texas women who had already attended the weekend. Soon after, the region became its own non-profit organization under the name EnVision Connection, Inc.
A Community of Women Dedicated to Being the Best They Can Be
Today, the South Central Region of Woman Within International operates as Woman Within South Central USA. We offer workshops and empowerment programs supporting women from all across the South Central USA. The women of the Woman Within South Central USA community know that each woman is unique and her self-discovery process is just as special and individual as she is.
As a part of the Woman Within International network, Woman Within South Central USA supports women in Texas, New Mexico, Louisiana and most recently, Mississippi. Women 18 years and older from all cultural backgrounds meet and attend Woman Within Weekends, local Woman Within Circles, Workshops, and Events. Within our local community, we discover ourselves, make new friends, and assist each other in healing ourselves and our world.
Our mission is to create space for authentic connection and empower transformation in service of women and the world. All are welcome. We invite you learn more about our local Woman Within Circles and Woman Within Open Circles where women connect and support each other in fully living the lives they want. Or find out more about our Woman Within Weekends®, an experience of safety and trust. It is a chance to delve deeper and come out with a new sense of wonder. We welcome you and welcome you to get started.
A Little About the Founder
Charlene Bell Tosi has a bachelor of science degree in nursing from Vanderbilt University; a master of science in educational psychology from University of Wisconsin-Milwaukee; doctoral studies in educational psychology at Marquette University and certificate in Jungian psychology from the C. J. Jung Institute in Evanston, Illinois.
She was a public health nurse for five years and a professor of nursing for fifteen years. While at the University of Wisconsin-Milwaukee, she created successful communication training for parents and adolescents that was funded by the National Institute for Health and continues to be offered and researched at the University of Wisconsin.
In 1987, in Milwaukee, Wisconsin, Charlene founded the Woman Within Training, which continues to offer the program to women across the United States, Europe, South Africa, and Australia. She is also the co-author of Women Within Skills (formerly Women Empowering Women,) Woman Within Wholeness (formerly Level 2,) Mother's Shadow, Couples Weekend 1 and 2 and the Embracing Your Sexual Self Workshop.
Charlene has a private, in-person and phone, coaching practice and leads numerous workshops for couples, men, and women. She is the mother of two sons and the grandmother of four grandchildren. She lives in Tucson, Arizona with her husband, Rich Tosi, a cofounder of the ManKind Project.
"On every page of Char's book, you'll find yourself, the women you care about, the women you don't like, the women you wish you could be. Through these encounters, you'll remember your place in the sisterhood of Womankind."

~ Jude Blitz, MA, Co-Founder of the Women in Power Workshop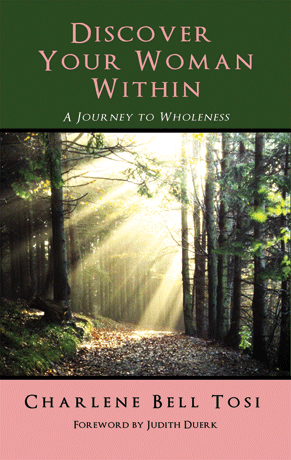 I'm interested in Woman Within. How do I get started?